Information event on the FAU Human Rights Clinic 2022/23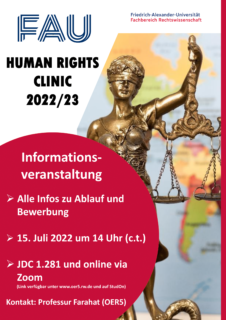 An information session will be held on July 15, 2022 at 2 p.m. (c.t.) in room JDC 1.281 to introduce the HRC as well as this year's project partner (DIMR) and to clarify open questions. The event will be held in a hybrid format. The zoom link for online participation can be accessed after registration in the StudOn course.
More information about the HRC and the application can be found on the flyer.